Digital Planets Awarded Sophos 2022 Outstanding Partner in Egypt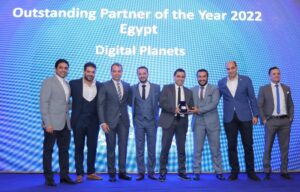 Cairo, Egypt – June 24, 2022
Digital Planets today announced it has been awarded the Sophos 2022 Outstanding Partner OF THE YEAR in Egypt.  Digital Planets is recognized for its outstanding performance and commitment to securing organizations with Sophos' next-generation cybersecurity solutions and services. "The shift to remote working has expanded organizations' attack surfaces, and cybercriminals are stopping at nothing to penetrate these increasingly virtual networks. Armed with Sophos' industry-best cybersecurity solutions and services, Digital Planets is securing organizations against these advanced threats," said Kendra Krause, Sophos senior vice president of global channels and sales operations. "Sophos is proud to support and recognize this year's winners that are leading the industry in delivering business-critical cybersecurity solutions, and we look forward to their continued success." It is worth noting that it is not the first time to Honoring Digital Planets by Sophos as she was awarded the Cloud partner of the year 2020, Cyber Stellar Award 2020 in addition to Synchronized Security Partner of The Year 2021.
Ahmed Hanafy CEO of "Digital Planets" expressed his pride and happiness of this achievement and said, "This award reflects our team heroes' efforts which supported to be the best partner in Egypt for 3 years continuously in addition to receive The Quality and Excellency award for digital transformation achievements also for 2 continues years 2021 and 2022" he added "We are working hardly to achieve our expansion plan to reach 5 branches all over the world till 2023"
About Digital Planets
Digital Planets Is the strategic and special partner of the best telecommunication and information security vendors globally established her first office in Egypt in Jan 2018 by 100% Egyptian Capital, launched UAE office in Jan 2020 in addition to Launching the UK office in Jan 2021 as a part of the company's expansion plan which aims to reach 5 branches worldwide till 2023.
About Sophos
Sophos is a worldwide leader in next-generation cybersecurity, protecting more than 500,000 organizations and millions of consumers in more than 150 countries from today's most advanced cyberthreats. Powered by threat intelligence, AI and machine learning from SophosLabs and SophosAI, Sophos delivers a broad portfolio of advanced products and services to secure users, networks and endpoints against ransomware, malware, exploits, phishing and the wide range of other cyberattacks. Sophos provides a single integrated cloud-based management console, Sophos Central – the centerpiece of an adaptive cybersecurity ecosystem that features a centralized data lake that leverages a rich set of open APIs available to customers, partners, developers, and other cybersecurity vendors. Sophos sells its products and services through reseller partners and managed service providers (MSPs) worldwide. Sophos is headquartered in Oxford, U.K. More information is available at www.sophos.com.