«Digital planets» wins «Quality and Excellency» reward for its achievements in digital transformation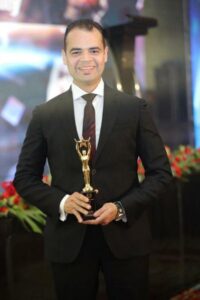 Digital planets -one of the leading IT and digital transformations companies- won the «quality and excellency» prize. It was rewarded by the international conference for quality and excellency in its eighth round which was held at Cairo to reward most effective influencers and companies in 2020, the event organized by International Dimond Pyramid based in Dubai.
The supreme committee of the conference headed by Dr.Ibrahim Mersal rewarded Ahmed Hanafy Digital planets CEO and founder for its achievements in digital transformation and for his success since he established the company. These achievements focused on helping clients to align with new technologies and transform digitally.
"the current session of the conference focuses on excellency principles and their role to increase productivity" Said Dr Ibrahim Mersal. "we aim to shed the lights on excellency models and collect influencers and companies whom present these principles to make such principles a daily lifestyle."
The most prominent personalities honored by the conference are "Super Star Yousra, Nelly Kareem, Syrian super star Gamal Suliman, and Syrian actor Bassel El Khayat" for their excellent artistic role. Besides honoring Member of Parliament Abdel Hady Al Kasab head of supporting Egypt Coalition, Dr Aneesa Hassouna Al Nas hospital Manager, Parliament members Magdy Malik, Mohamed Mostafa El Sallab, and Mohamed Omar.
"I am so proud and happy of what digital planets could achieve in the past three years and what we did to expand in the Middle East and Europe while the world facing abnormal circumstances due to Covid-19 pandemic" Said Ahmed Hanafy "We also were honored by our partners such as naming digital planets as world's best cloud services agent, best technical support across Middle East, Sophos and 3CX partner of the year."
"we work very hard to achieve our expansion plan to reach 7 branches worldwide by the end of 2022" he confirmed. "digital planets keeps working to execute its ambitious strategy wich aligns with the national  digital transformation strategy to present services in an easy and seamless way for both individuals and corporates."
Digital Planets is a premium partner of "Telecom Egypt" and specialized in Enterprise Services, Gold Partner of Kaspersky, Platinum Partner of 3CX, Gold Partner of Microsoft with 10 years' experience consulting team, and well-trained experts, as the company vision is to be the leader technology provider in Egypt and the MEA and build a long relationship with her clients and business partners by providing high quality services through her sites in Egypt, UAE and UK in addition to expansion plan up to 5 branches all over the world by 2023.